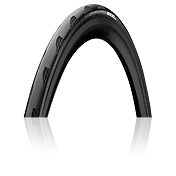 TubeLess conversion
Going tubeless will reduce the resistance per wheel with between 5 and 10 watts comparing to the comparable tubular/clincher solution.
If you upgrade from a standard tyre w butyle tube to a high-end tubeless the reduction of resistance can be as much as the double .
You can add to that, that looking at the wheel as a system will even give a reduction of resistance in aerodynamics compared to the tubular tyre and working w a sealant will give a puncture resistance better than we have from tubulars.
The last thing we can do is optimizing the tyre pressure. Way too many riders ride with a pressure too high. Here we can find another 5 watts in reduction per wheel.
An upgrade will involve both wheels and include two Continental GP5000 tubeless or a Vittoria Corsa speed tubeless, tyres, valves, rim tape and sealant. The tyres mentioned are the fastest tyres in the world and the preferred solution. Availability of Vittoria in 25mm width can be a challenge though.