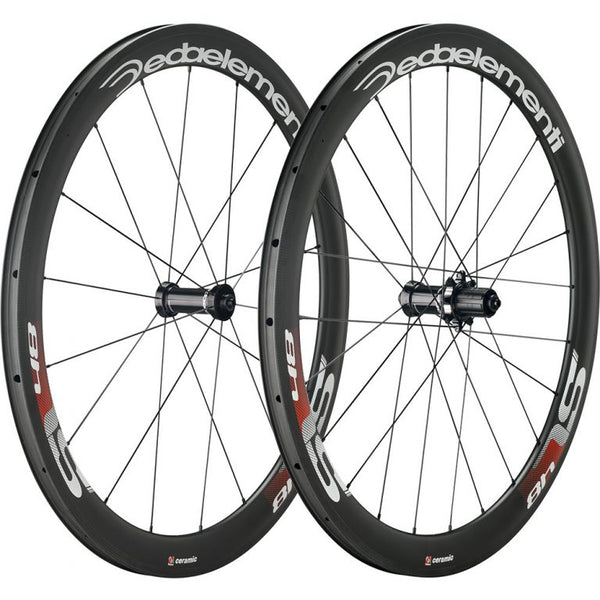 Deda hjulsätt SL48C
When looking at wheels they should be looked upon as a system. Deda SL48C is from that view probably the fastest set of wheels in the world.
 - ceramic bearings
 - tubeless ready
 - deep profile
I.e. the perfect combination. Ceramic bearings will offer the lowest possible friction. Tubeless will guarantee the lowest possible rolling resistance while giving you a puncture resistance better than tubulars. A 48 mm deep profile is the optimal depth for road racing (sprinting excluded).
DINvelo offers you the whole Deda range but has chosen to focus on this wheelset. The Deda range will be available to DINvelo customers according to the price list from Deda homepage minus 35%. Cost of transport varies with volumes.  
For the SL 48C specifically, it is a new lighter carbon rim construction to reduce the wheel inertia.
The wider rim generation provides a better support to the tire and reduce the rolling resistance, increasing at the same time the wheel strength and providing enhanced aerodynamics.
The rim is built with the tubeless-ready technology to be compatible with clincher and tubeless(*) tires.
The 26mm rim width makes the wheel the perfect solution for any riding condition including gravel roads. The SL hubs are equipped with Enduro® Ceramic bearings for super high smooth-rolling and ultimate speed. Abec-5 tolerances and Graphite Nylon retainers are premium features ensuring long lasting and greater durability. The rear hub design and spokes count (2:1 pattern) results in improved lateral stiffness for any riding style.
Available in Team and Polish on Black (POB) finish.
---